A Rare and Important Etching by
Rembrandt van Rijn
To inquire, please go to our Trading Post
Rembrandt van Rijn (Dutch, 1606 - 1669), "

Sheet of Studies

", Etching on thin laid paper with undiscernable watermark, Sheet approximately 7 5/8 X 9 inches, Signed "Rembrandt" in the plate, with the artist's signature that is typical in every way, and dated 1643. With drypoint burr on the darker elements in the composition and only minor wear in the densest areas of cross hatching. In good condition, very slight tear at one corner, not intrusive into images. Slight discoloration and staining in the paper (see image). Not framed.
This work contains several studies that are similar to others of Rembrandt's work, whereby he combined images from several plates,(some rejected) into a composition. This work is possibly unique or at most printed in only a few examples, which we have not seen before. All of the images shown in this plate are previously unpublished, but very similar to others by the artist. In the case of the horse image shown, perhaps a trial composition, later rejected, for the "Good Samaritan" (B90) as it is similar in layout to the published version, yet very distinctly different so as to suggest that it is not a copiest's effort. The young man in the hat, signed and dated 1643 beneath, may be an unpublished Rembrandt self-portrait as Rembrandt would have been 37 at the time. This is the rarest Rembrandt etching to come to us in the history of our business.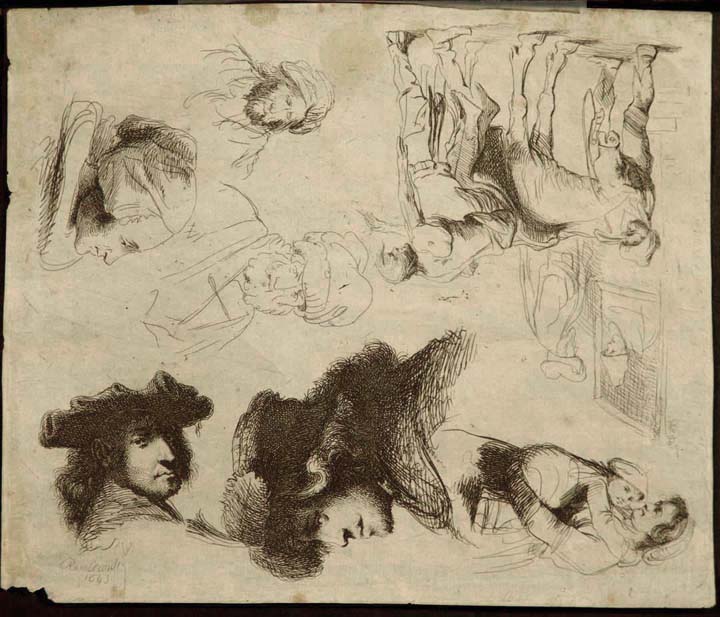 Detail Images