Home Page
Questions about our Appraisal or Authentication Services?...
Visit our FAQ Page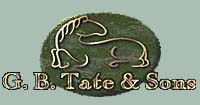 The Trading Post
Gateway to Personal Service

Call us anytime at
(307) 399-3316 (... ask for Mr. Tate)
or submit your request in the form below:
NOTE: If you are sending IMAGES, please send them by email to gbt@gbtate.com
We will reply to you quickly... usually the same day.
Thank you for using our services!